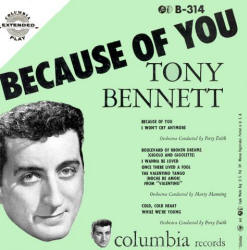 Because of You, The Amazing Mr. Bennett
Bill Brent

78 years ago - August 03, 1926 (depending on which book you believe) - Anthony Dominick Benedetto was born. He grew up in the Astoria section of New York City (Named for John Jacob Astor, who was to build up the area; plans that died with him on the Titanic). His father died when Anthony was ten, leaving his mother to support the family of five. Young Anthony set his sights on performing early on, In 1936 he performed for Mayor Fiorello La Guardia at the opening of the Triborough Bridge. He attended the High School of Industrial Arts, where he studied the fine arts (painting) but he dropped out at 16 to earn money to help support his family. He was drafted into the army in 1944, and he saw combat in Europe during World War II.
His tour was over two years later and he decided to give music a more serious try, attending the American Theater Wing on the GI Bill. Eventually he hired a manager and was working regularly around New York. As he told his audience during a recent concert - his first real break came in 1950 when Bob Hope saw him performing with Pearl Bailey in Greenwich Village and put him into his stage show, also suggesting a name change to Tony Bennett. That same year Columbia Records A&R director Mitch Miller heard his demonstration recording of "Boulevard of Broken Dreams" and signed him to the label. Miller, best known as the sing-a-long king, hated RnB and rock-n-roll and kept Columbia MOR for years. Tony Bennett shared the label with a man he called his greatest friend on earth - Frank Sinatra. Sinatra left Columbia for Capitol in 1952 for a combination of more control and more money - but in no small part also, because of disputes with Miller. Miller had encouraged Sinatra (and Bennett) to record novelty songs over their objections.
Entering the charts on June 23, 1951 "Because of You," hit the top position in September. Tony's follow up hit (released in July) was a cover of Hank Williams' "Cold, Cold Heart." - according to Bennett, Williams told him - personally - how much he disliked that hit version. His next chart toppers were "Rags to Riches" and, depending on which chart you read "Stranger in Paradise". He had top ten hits in 1954 with "There'll Be No Teardrops Tonight" (another Hank Williams tune) and "Cinnamon Sinner" (all backed by the "My heart cries for you" composer: Percy Faith). After this, and much to the chagrin of Mr. Miller, rock and roll started pushing "adult contemporary" out of the Billboard top position. It may come as a surprise to some, but on September 2, 1955 Tony Bennett shared the stage with Chuck Berry (in Berry's first appearance outside of the all-black venues). The man who introduced Bennett and Berry - Alan Freed! While Bennett continued to hit the charts through 1967, his last top ten single came in 1957 with "In the Middle of an Island". Mr. Bennett's last charted single "For Once in my Life" entered the top 100 on October 28th, 1967 and peaked at #91.
Of all his 51 charted singles the one he is most identified with "I Left My Heart in San Francisco," was a ballad written by George Cory and Douglass Cross in 1954, they rewrote the lyrics and had pitched it to Bennett's pianist, Ralph Sharon. It was released as a single by Columbia in the summer of 1962 and only peaked at number 19, but it remains Bennett's signature song. The album reached the Top Five and went gold, and the single won Bennett Grammy Awards for Record of the Year and Best Solo Vocal Performance, Male. Oddly, two song released after "San Francisco" hit higher in the charts "I Wanna Be Around" went to #14 and "The Good Life," to number 18.
In the mid to late 1960's Clive Davis, head of Columbia parent CBS Records, encouraged him to record contemporary pop/rock material - it didn't work, and in 1972, he left Columbia for MGM Records.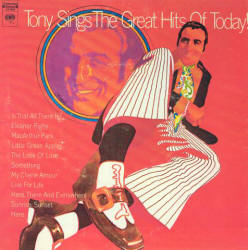 When Sinatra left Capitol, he formed his own record company; Reprise - when MGM did not renew Bennett's contract in 1975 he decided to open his own record company, Improv but the label failed in 1977.
In 1986, Bennett re-signed with Columbia Records and released "Art of Excellence", his first chart album in 14 years. Danny Bennett, his son, and manager helped him find ways to attract the attention of the MTV generation - and to do so without changing his basic style. Bennett became as popular as ever. The albums Perfectly Frank (1992, a tribute to Frank Sinatra) and Steppin' Out (1993, a tribute to Fred Astaire) went gold and won Bennett back-to-back Grammys for Best Traditional Pop Vocal Performance.
Now let me say this - Mr Bennett is a nice guy. very friendly, not pretentious, and while I've never been drawn to his politics or recordings (with a few exceptions; Because of You, Cold Cold Heart, among them) - he's the mystic mainspring behind the Frank Sinatra School of the Arts. Which has enabled my son to perform at Carnegie Hall, Lincoln Center, the UN (for Nelson Mandella), The NYS Governor's Arts awards, The First WTC memorial, and to open for Dave Matthews at Central Park.
Mr. Bennett has been personally helpful with advice and encouragement to my son, and the students in general - often coming to their performances, and bringing friends like (the equally affable) Harry Belefonte. Maybe its the child in me, but I'll never forget being introduced to Mr. Belefonte - he put out his hand and said "Hi - I'm Harry".
All that being said - in the three years since I first met him him - Mr. Bennett has seemed settled, laid back and displayed the attributes of some one approaching 80 years of age though certainly with all his faculties. Over the Thanksgiving holiday he was performing in NYC and was kind enough to give tickets to the school. My wife, son and I went to the Sunday Show, and - well - I guess you can tell - I wasn't expecting much more than a pleasant evening.
What a shock when he made his appearance. The audience was 110% with him - he felt it, and responded in kind. More that 30 years just melted away - he gave the performance of a man in his prime - Mixed some new - with some old, sang a few of the hits. Told of Hank Williams' phone call, where he was asked "Tony, why'd you ruin my song?" Told of "sneaking" in to see Frank Sinatra at the Hollywood Palladium, sitting in the cheap seats, swooning with the girls, then being called up on stage to sing along side his idol.
The theater is very nice (quite unexpected when you think its on the 5th floor of a shopping center where the old NY Coliseum used to stand) - Mr. Bennett wanted to show off the acoustics - so for the next to last song he put down the mike and belted out "Fly me to the Moon" - no one strained to hear him.
okay - so I guess I'm a fan now.
Bill